This website requires javascript to be enabled.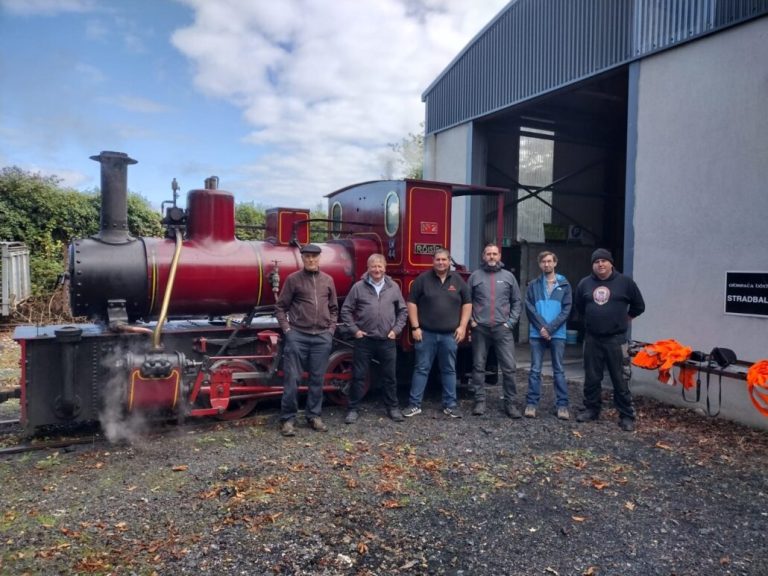 Photographed at the Heritage Railway in Stradbally, Co.Laois, during the trial of the new biocoal, are LR, Bob Gwynne – National Railway Museum UK, Colin Keyse – Severn Wye, Nigel Glynn – Irish Steam Preservation Society, Robert Johnson – Arigna Fuels , Stephen McCormack – Irish Bioenergy Association (IrBEA), Sean Cain – Irish Steam Preservation Society. photo creditR. Gwynne
Heritage sites have traditionally burned coal, from open hearths in historic homes to steam locomotives, traction engines and stationary engines. IrBEA said research is underway for a coal substitute that gives similar characteristics to coal, but does not increase the carbon load in the atmosphere from burning fossil fuels – and that the Ireland leads the way in this area.
On September 24, Ireland saw the first passenger train hauled by a steam locomotive using a 100% renewable biomass-based coal substitute. It was on the Stradbally Woodland Railway, a short narrow gauge line with steep grades.
The fuel used was a ready-to-cook commercial product called Harvest Flame which is made via the roasting process from biomass – in this case, olive pits, a residue from the food industry. This material is also suitable for small locomotives and traction engine boilers. The IrBEA said Ireland's first volunteer-run heritage line was also the first step towards carbon-neutral steam heritage.
Nicola Glynn, secretary of the Irish Steam Preservation Society (ISPS), said: "We were delighted to try this new form of fuel. Our rail and traction motor rally takes place in a beautiful part of Ireland, and doing our part to help decarbonise the economy is important to us. Additionally, our crews appreciated not ending the day covered in coal dust, as it is a remarkably clean fuel.
Peter Layden, Director of Arigna Fuels, said: "Arigna Fuels is delighted to support the legacy steam industry, replacing the original fossil coal with Harvest Flame, our new 100% renewable and sustainable fuel based on biomass. Not only will this fuel help to significantly reduce the carbon footprint of the heritage sector, but it will also allow people to continue to enjoy first-hand the magnificent and historic engineering, a legacy of another era.
Stephen McCormack of the IrBEA said: "The IrBEA and its members continue to develop and promote sustainable forms of bioenergy. IrBEA is delighted to support this new and innovative application of a fully sustainable biofuel in such iconic use. Ireland's small steam engines have played a very important role in the development of power generation, industry and agriculture on our island and it is important to keep this legacy alive while showing that a shift to a future based on bioenergy and non-fossil fuels is achievable. A new product for an old process, with a lot of potential.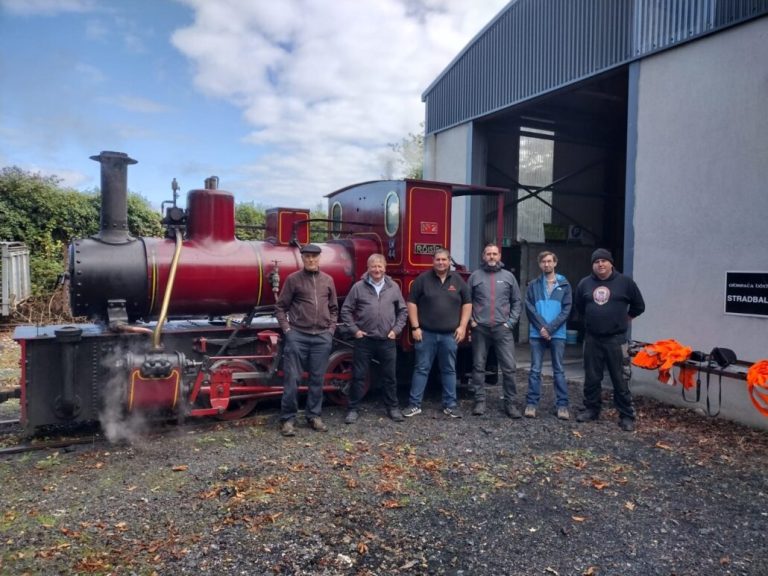 Photographed at the Heritage Railway in Stradbally, Co.Laois, during the trial of the new biocoal, are LR, Bob Gwynne – National Railway Museum UK, Colin Keyse – Severn Wye, Nigel Glynn – Irish Steam Preservation Society, Robert Johnson – Arigna Fuels , Stephen McCormack – Irish Bioenergy Association (IrBEA), Sean Cain – Irish Steam Preservation Society. photo creditR. Gwynne